It's all about your dog!
DogWatch of St. Louis has been proudly keeping your pets safe since 1990. The patented FM Safelink design, 2 year battery life, and many other user friendly features makes DogWatch® simply the best system in the world for pet containment. We pride ourselves in offering not only the highest quality pet containment solution, but also the best customer service in the area.
As a testament to how much we trust and believe in DogWatch® products, we have been very satisfied customers for over 20 years. We rely on the product daily to allow our beagles to run and play safely in their yard and also to keep them off the living room couch!
We love working with animals – they are such an important part of the family. We chose DogWatch because the DogWatch Hidden Fence has the best reputation for quality, safety features, convenience and customer support. We want to work with the best company so we can provide the best for our customers.
As lifelong St. Louisans, we know the St. Louis area well. We hope to have the opportunity to help keep your pet safe and give your family the freedom they deserve.
Your DogWatch® St. Louis Team includes Lisa White, Billy White, and Jim Schaperkotter.
We hope to have the opportunity to help keep your pet safe.
Service Area
We provide services to customers in the St. Louis area, including the towns and cities of St. Louis, and the counties of St. Louis, St. Charles, Jefferson, Franklin, Warren, and Lincoln (MO). and the surrounding area.
Get a Free In-Yard Estimate!
Our representatives will meet you at your home for a free in-yard estimate. We will help assess your needs and customize a solution that suits both you and your pet. Call today or schedule an appointment to get things started!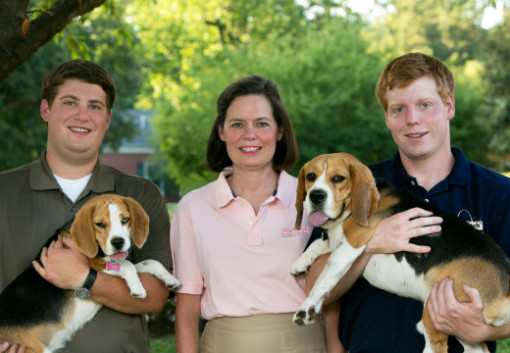 Why Choose DogWatch of St. Louis?
1. Our number one concern is the safety and well-being of your pet. We provide the support you need to ensure successful training and happy containment.
2. We provide a proven PetFriendly™ training program. We train your dog (or cat) to recognize the boundary flags and the audible warning signal (or vibration) before introducing the correction.
3. We are experienced professionals committed to providing excellent customer service and support. We strive to service every customer promptly and courteously.
We want to hear about your experience! Write us a review on Google+
Simply the best. No getting around it.™
Another reason to choose DogWatch of St. Louis is that we are an authorized DogWatch dealership. The DogWatch Hidden Fence is the most technologically advanced and the easiest to use, and it is backed up by a no-hassle Lifetime Warranty from a company with more than 25 years of keeping pets happy and safe.

What makes us Simply The Best?
---
Customer Testimonial
Lisa, I just wanted to say thank you. Billy and Jim were just back here with help training the dogs. They could not be nicer – so personable and so gracious. They were wonderful. You are wonderful. Our DogWatch system is great and I would recommend you!
Olivette, MO